Beach Haven 7
Our 7 bedroom beach house is located just 100 yards from the beach. The house is technically a duplex with 4 bedrooms and 2 baths upstairs and 3 bedrooms and 1 bath downstairs. There are stylish Bamboo hardwood floors throughout the home. Both units have their own fully equipped kitchens and each living room has a 42′ flat panel TV with High Definition TV & DVD player. Wi-Fi service covers the entire home. There is a dining deck off the living room off of each main floor and a rooftop deck that offers great ocean views. There are two outdoor showers and a patio in the back yard with a large gas grill. The entire house is air conditioned for maximum comfort on those hot August days.
Travel together but have your own space
While we market and rent this house as a single unit, it is technically a duplex with separate entrances and separate fully equipped kitchens. That means that you can vacation together with friends or extended family, but still have time to yourselves. The pressure to eat every meal together or go to bed at the same time is gone. Have younger kids with early bedtimes? Put them to bed in one unit and be able to enjoy time with the adults in the other without worrying about "sleeping babies" or "keeping the kids up."
Each unit has it's own private entrance, fully equipped kitchen, living room with HDTV and DVD player, full sized washer & dryer, and large dining deck. For more info or to find out about renting the individual units, visit The Upstairs, the The Downstairs or The Whole House pages.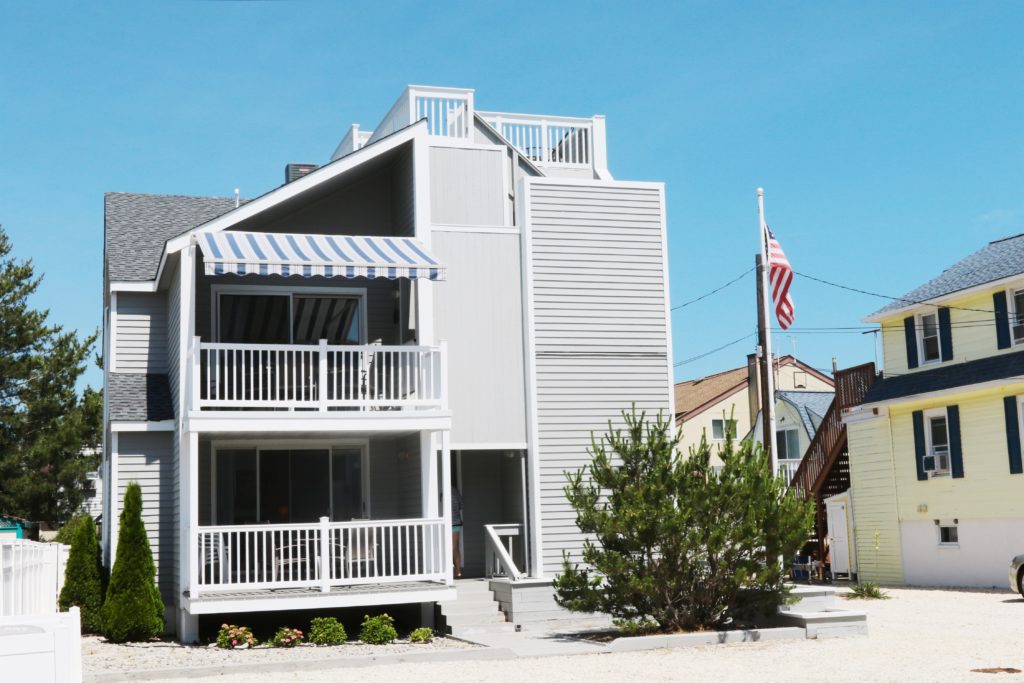 The Bedrooms
The upstairs master bedroom is located on its own level and has a king sized bed and a really nice private bathroom. On each of the main floors there is a queen sized bedroom, and 2 bedrooms each with 2 twin beds.
Explore our Beach House
Take a walk through the house…
Vacation Options
Choose a relaxing September weekend at the shore or a full week on the beach in July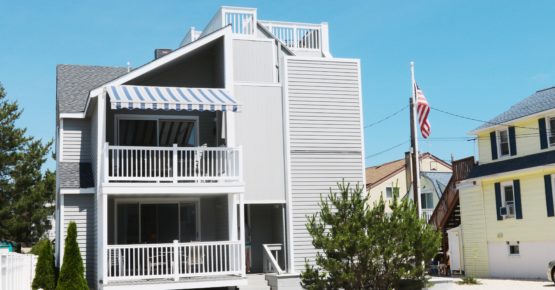 Book now to reserve your week for 2018. Summer weeks start booking in August for the following year and are typically fully booked by January!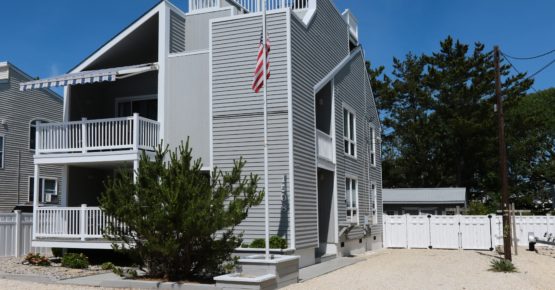 Have a wedding in town? Don't pay ridiculous hotel rates, get the whole family together at our house!