The Whole House
7 Bedrooms / 3 Bathrooms
The Beach House
Upstairs you will find a fully equipped, eat-in kitchen complete with Dishwasher, Microwave, Toaster, Coffee maker and all the pots, pans, dishes and utensils you will need. The Master bedroom is located on its own level and has a king sized bed, a 43″ flat screen HDTV, and a really nice private bathroom. On the main floor there is a queen sized bedroom, and 2 bedrooms each with 2 twin beds. The living room has a 55″ 4K Smart HDTV with access to all the popular streaming services (you must have your own account). There is a dining deck off the living room of the main floor and the Upstairs unit has exclusive access to the rooftop deck which walks up from the dining deck and offers great ocean views. The Upstairs features central air throughout.
There are 3 bedrooms and 1 bathroom Downstairs. The lower unit features one bedroom with a queen sized bed, and 2 bedrooms each with 2 twin beds. The living room has a a 55″ 4K Smart HDTV with access to all the popular streaming services (you must have your own account). Downstairs also enjoys its own fully equipped, eat-in kitchen and a dining deck off the living room. There is ductless air conditioning in the living room and all of the bedrooms to cool the entire floor.
Bamboo hardwood floors are throughout the home. Other amenities include wireless internet throughout the unit featuring Comcast's 600Mbps service, High Definition cable TV, dishwashers, washers and dryers, microwaves, clothes iron, pots and pans, toaster, coffee makers, blender, glasses, and dishes. Outside there are two outdoor showers and a fenced in yard with dining area, BBQ and storage shed.
Get Price / Book Now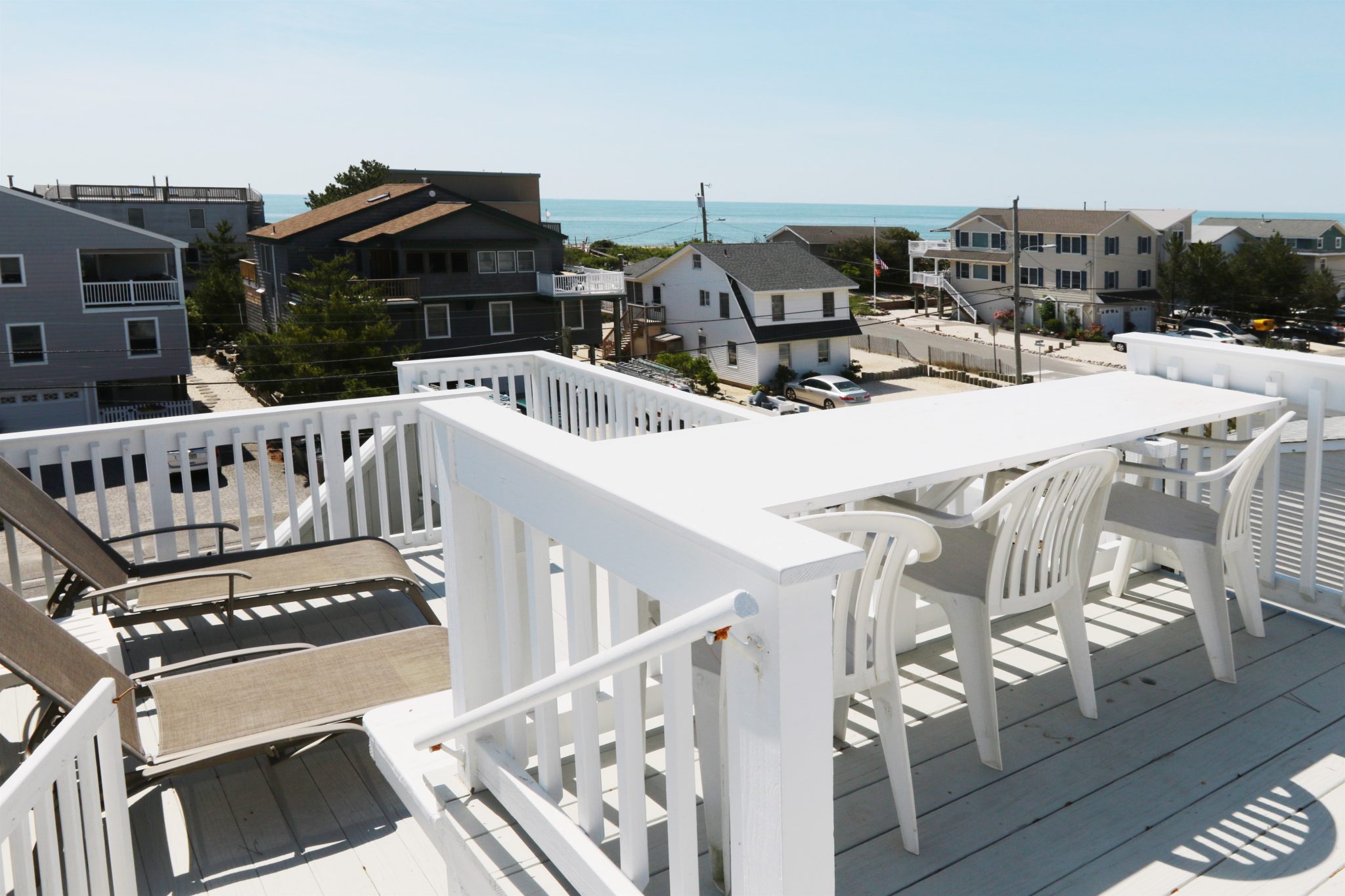 Upstairs
Downstairs
Exterior
Amenities & Info
Our house has just about everything you would need for an enjoyable beach vacation
Sleeps 14 in beds
Sleeps 14 people in beds (1K, 2Q, 8T)
Air Conditioning
Both units are fully air conditioned (Central upstairs, Ductless downstairs)
Wi-Fi
High Speed Wireless Internet throughout the house with Comcast's 400Mbps Service
Decks
Each unit has a dining deck off the living room and the upstairs unit also has access to a rooftop deck with Ocean view
Flat Screen 4K Smart HDTVs
Both Upstairs and Downstairs Living Rooms feature 55″ 4K Smart HDTVs with access to all the popular streaming services (you must have your own account).  The upstairs master bedroom has it's own 43″ Flatscreen Smart HDTV.
Beach Tags Included
4 Beach Tags are included with each unit – 8 total for the house. (Required Mid-June through Labor day. Adults & children over 12 only. Seniors and kids < 12 do not need beach tags)
Outdoor Showers
There are two outdoor showers
BBQ Grill
The back yard features a large gas grill, dining table and picnic table
Washer & Dryer
Full size Washer and Dryer in each unit
Laundry detergent & fabric softener are provided
Coffee Maker
We have both a traditional drip coffee maker and a Keurig single cup machine in each unit. So whether you just need one cup each morning, or the family needs a full pot every day, we have you covered.
Family Friendly
There's no better place for a family vacation than at the beach. We have games, books, puzzles and beach toys for the little ones.
Fully Equipped Kitchens
Each unit has its own kitchen including full-size refrigerator/freezer with ice maker, oven & cooktop, microwave, Keurig & drip coffee makers, cookware, dishes and utensils.
Fenced-in Backyard
Both units have access to a private, fenced-in backyard. There is a clothesline for hanging wet towels and swimsuits, a shed for storing bikes and beach gear, dining and picnic tables for family meals, and a large gas grill for cooking.
Parking on Premises
Off-street parking for 3 vehicles per unit
(6 total for the house)
Plenty of Storage
There is a large fenced in rear yard as well as a storage shed with room for bikes and all your outdoor gear
Hair Dryer
There is a hair dryer in each unit
Iron & Ironing Board
There is an iron and ironing board in each unit
Cleaning Products
We provide basic cleaning products  for your stay. This includes a mop, broom, vacuum, sponges and assorted cleaners. We also provide hand soap, dish soap, dishwasher detergent, laundry detergent and trash bags.
Private Entrance
Both units feature separate private entrances. (There is no internal connection between units)
King Sized Bed
Enjoy a King sized bed in the Upstairs Master Bedroom
Queen Bed
One Queen Bedroom in each unit
Twin Beds
Each Unit has two bedrooms with two twin beds in each – four total twin beds per unit
Not Included
While we strive to take care of our guests needs during their vacation, some things we are not able to provide.
Sheets & Towels – Not provided, but are available through a local service. Learn More
Pillows – With the onset of COVID-19 we had to stop including pillows as there was no way for us to sanitize them between guests. You can bring your own or use the local service above.
Toilet Paper & Paper Towels – We provide a couple of rolls to get you started, the rest is up to you.
Bath Soap, Shampoo & other personal products are also not provided.
Video Tour
Take a peek inside and see why Summer weeks go so fast.
No high school or college groups. No groups under the age of 25. No Exceptions.
No smoking in the house, no parties, no pets allowed.
No children on the roof deck without an adult.
Weekly rental changeovers are on Saturdays.
Check-in is 2:00pm, Check-out is 10:00am (unless otherwise arranged with owner)
Towels and Bed Linens are NOT provided but can be added as an option.
No Cleaning fee charged on weekly rentals.
Ready to Book?
Reserve the Whole house for your family
(2 night minimum April-May and Sept-Oct | Full Weeks only in June, July & August )
Reserve your week today!
When you are ready to book, fill out the form with the required information and press "Submit". This will tentatively reserve your dates. We will contact you in order to confirm your reservation and coordinate signing the rental agreement and making payments.
---
Note: We cannot accept bookings more than 11 months in advance to allow this season's guests the opportunity to reserve the same week next season. If you would like to be placed on our waiting list, or have a special event that requires advanced planning (like a wedding), simply enter an inquiry and note in the comments your desired dates.
To check rates, simply select your desired dates. (Rate includes $500 security deposit).
---