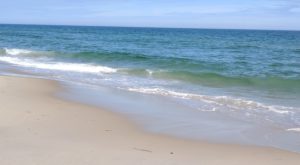 Summer 2020 Rental Update
I'm sure that, like us, you are all waiting and hoping for the shore to "open" for the Summer. I'd like to say that we have answers to all your questions, but unfortunately, at this time nothing is certain. That said, the things we are hearing are mostly positive developments. While rentals are currently prohibited at the shore until May 15th, based on comments by local officials, we believe that shore rentals will be permitted once again by June 1st. Nothing has been approved or announced, but that is the date that they are targeting and we have our fingers crossed.
As you can imagine, there is a lot that needs to happen for the towns to be ready for the summer rush. It isn't as simple as just declaring the towns "open". Businesses need to stock up, staff up, and put health safety requirements in place. Those things take time, especially staffing and stocking up. Many local businesses depend on international students for their seasonal labor, and right now that's simply not an option. In addition, with only two grocery stores on the island, being able to supply food for 10x the current population will be another challenge. As I'm sure you've heard, this may be our "new normal" and we need to be prepared to adjust. This may mean doing things like bringing more food from home.
That being said, there's no place like the shore! Things may not be the same as before, but we think making some sacrifices in order to get a week on the beach is worth it.

How are we preparing for the "new normal"?
In order to make your stay as safe as possible this summer, our normal procedures will need to change. We ask for your patience and flexibility as we work through this process.
This season we have hired a new cleaning company and they are taking disinfecting VERY seriously. Back in March they announced their cleaning process for rentals this year. They purchased several electrostatic sprayers and disinfecting chemicals that disinfect soft surfaces (couches, beds, rugs) with a fine mist. You can learn more about this product here. In addition to spraying the soft surfaces and doing the normal turnover cleaning, they will also be disinfecting all high-contact surfaces. This includes everything from remote controls to light switches, door knobs, thermostats etc. While this service comes at an added cost to us, we feel that our guests' health and peace of mind are worth it.
However, this may require extra cleaning time and we may ask our guests to delay check-in until 3:00pm or 4:00pm (instead of our usual 2:00pm). If our cleaners determine they need the extra time we will let you know prior to your stay. We are also trying to determine how best to deal with items like pillows, blankets and comforters. There isn't a safe and timely way to disinfect things like pillows between guests in addition to cleaning blankets and comforters. We are looking into having two sets of each that can be swapped between guests but storage space is a concern. We may ask our guests to bring their own pillows if we cannot come up with a solution. We realize this is far from ideal and we are doing our best to address it, but we wanted to prepare you should we ask everyone to BYO Pillows.
Thank you all for your patience and understanding in this confusing time. We are looking forward to another great summer at the Jersey Shore and we hope you are too. If you have any questions or concerns, please don't hesitate to reach out to me. You can contact me by phone or email by using the "Contact Us" information at the bottom of every page.
Tim Krug
Beach Haven 7
Vacation Rental Home